In German, "gazebo" means, "useful lawn decoration suitable for polka bands."
No, not really.
What a gazebo is, that's about as complicated as what it's not.
Here's why:
There are not many structures that can be quite so many things to so many people. A Gazebo creates a usable space as well as upping property values and enhancing the look of your place.
It can be a spa in your yard, a barbequing paradise, and a romantic retreat. Not to mention a haven from bugs in the summer, and rain in the spring.
They can be seasonally decorated, used year-round in many parts of the country, and be the perfect location for your outdoor lifestyle.
Like this one:
While you are not likely to have one that is quite this impressive, or large, in your yard (who has that kind of space!), it does go to show the flexibility of the structure.
That's what a gazebo is, but there are also things they definitely are not. Such as…
They are not always octagons.
Let's define gazebo:
A roofed structure that offers an open view of the surrounding area, typically used for relaxation or entertainment. It can have latticed, screened, or open sides. Gazebos are typically placed in locations with beautiful views.
I know, that traditional look may be what you were thinking, but, let's dig in here.
A Gazebo is So Many Things
So a gazebo is a square — or a rectangle. Or maybe an octagon. It could be a circle, too:
It has open sides — or not. And…it may just be screened, or have latticed sides, or even ornate woodwork.
Or, just consist of posts and a roof, gazebos are easy to get along with like that.
Of course, that's not all:
It could be temporary and fold up; perfect for grilling, and taking with you on your next trip to the lake.
It could be permanent and sitting on a base of concrete, stone, or wood.
A gazebos open floor plan could even be used for, well, a polka band.
What does that mean for you?:
Whether you own or rent, live with two seasons or four, a gazebo is a great addition to your yard.
All you need is the space to put one up, and the time to get it done. But first, you need to decide if a gazebo is really worth the effort for your yard and your family.
Your Time is Precious
Is building a Gazebo worth it?
It's well worth the time…if you have the skills. Or, if you can learn them. If you can follow basic carpentry instructions, you're in good shape.
To build a gazebo properly, you should be confident that you can make precision cuts in lumber ranging from posts, beams, rafters, and joists to full sheets of plywood. (Or buy a kit that has that done for you already.)
But…before you begin, you have some decisions to make.
First things first…
How big do you want your gazebo?
The standard foldable shelter from a box store is 10 feet by 12 feet, or 120 square feet.
That's enough room for most outdoor furniture sets with a coffee table. It's also enough room for a standard picnic table or outdoor dining set.
Or perhaps you're looking for a spot for your hot tub. Because who doesn't want a gazebo with a hot tub in it?
Whatever it is that you are dreaming of, make sure that you've given yourself enough space in your gazebo to pull it off.
Now, let's talk about the shape of gazebo you want.
The truth about shape and size and math
Once you have decided on the perfect view you want to capture, so you know where your gazebo will be built, it's time to consider shape. Your available space may dictate what shape will give you the most usable space, without taking too much of your yard.
That said:
Square is always the easiest. Rectangle comes second. Once you're past four sides…
…math is math and things get harder.
So, let's address it:
Most people think of an octagon when they think of a gazebo.
Here's a secret:
You can achieve that look with anything over five sides. Seriously, you can!
Keep in mind: The more sides you have, the more square footage you're using.
The question of style
Style depends completely on you.
Do you want something fancy or do you prefer simple and natural? Do you want an ornate look, or simple posts and a roof?
Then this important question:
Do you plan to use it or is it just for show?
Take a look at some gazebos and how their owners put them to use:
It's Time for a Design
Let's assume that for your purposes, you've decided to go with an octagonal gazebo, laid out on a perfect circle.
Here's how to create a perfect circle,
Take a stake, and put it in the dead center of your future gazebo floor. Measure a length of paracord or rope to half of the final size you'd like your gazebo to be, plus a few inches.
You'll need a tent or ground spike, a length of paracord or twine, and a piece of chalk.
Attach it to the top of your spike, or use a piece of wire to attach it so it can travel around the spike without wrapping around it. Now, attach the other end to a piece of chalk.
Then pull the cord to its full length, close to the ground, and walk it in a full circle, marking the ground with a piece of chalk.
Like this, only on a larger scale:
Ta-da! the perfect circle, for building your gazebo.
Let's get to building!
The first thing you'll need?
Posts.
The worst part of building anything outdoors?
Posts.
Here's why:
They have to be laid out perfectly for the roof math to work right:
If that makes sense, you can continue on and start doing your math.
If you're completely lost, don't give up yet.
Keep reading, there's always a solution
The next step is all about concrete, dirt, and steel
In most areas with a frost line, The footings for your posts have to be 4 feet deep.
Check with your local building department before you plan your material list. The tubes can be pricey.
Watch this video to learn the proper way to install a footing:
Now about that roof…
A gazebo roof really makes the structure. It's the cherry on top, as it were.
A typical gazebo is small enough to really go out of your way on your roof.
First, you'll need a basic frame
An octagonal roof is no joke.
It takes a lot of measuring, and a lot of precision, compound cuts.
It starts out simple enough:
How much do you know about roof framing?
Read this list of facts about framing an octagonal roof, giving yourself one point for each item you understand:
A gazebo roof uses hip rafters for its main support
Common rafters are necessary if the space between the hips is over 24 inches
Common rafter pitches are the number of inches of rise per foot, such as "4/12"
Hip rafters essentially form triangles and use a factor of 17, such as "4/17"
The top and bottom of every rafter ends in a 90-degree plumb cut, relative to the angle of the rafter
Another plumb cut at the end of the landing beam plus a level cut to form a notch is known as a "crow's foot"
The hip rafters for a perfectly symmetrical structure will be identical to each other
The purpose of the common rafters is to support the plywood and roofing so there's no sag
OK, so let's be honest:
Unless you understood all of that, you probably don't want to frame that roof yourself.
But that doesn't mean you should give up on your gazebo.
There's always an answer. We'll get to that a little later.
For now, let's talk more about what a gazebo can do for you.
The Many Uses of a Gazebo
Your posts and your roof make the gazebo what it is, but there are lots of other things to consider.
Is your gazebo something you plan to use?
If so, it's time to decide how.
A gazebo functions best as a three-season screen-house
With eight posts just a few feet apart each, screens and a door won't be all that difficult.
For a cozier outdoor getaway, privacy walls or lattice are a great addition.
Things that fit nicely in a 10- or 12-foot gazebo
A 10- or 12-foot diameter gazebo is a pretty decent sized outdoor space.
It's enough room for lots of practical uses:
You like food, don't you?
A gazebo offers shelter from the wind, sun, and rain. A screened-in gazebo also offers protection from insects.
Depending on where you live and what kind of insect control you use, you may end up using your gazebo for a couple of meals a day. Who wouldn't want to eat here?:
What's even better?
Because your set sits under a shelter, you have more choices for chair style and cushions.
You won't need an umbrella, so you can take that one you have and find a clever use for it.
And we love lounging, so…
Whether you have couches, chairs, lounges, ottomans, coffee tables or…whatever, a gazebo, especially a screened gazebo, is a perfect place to lounge out of the sun.
So what better place for a wicker patio set?
It's even better on those days that turn ugly when the afternoon clouds come booming in.
Why?
Because you don't have to go anywhere.
Your gazebo is now the perfect place to enjoy a thunderstorm.
For this application, privacy walls on a few back panels make placement of your wicker furniture easier.
Some people use privacy curtains so they can choose which to pull, allowing their gazebo to "face" a direction.
Or you can pull them all completely closed.
Getting into the swing of things
Porch swings and tree swings and even those big swings on frames all have one thing in common:
They offer shade.
You could easily fit a really good sized swing in your gazebo, one for two or even three people, and still have room for more.
Maybe one of those little bar setups with the high counters and tall chairs.
Don't forget, you could also use a hammock!
Oy some low-light plants for a natural, calming effect.
Or better yet…
Some lattice on the side as and back and ivy — or another simple, pretty vine — for an immersive experience.
No screens or privacy curtains needed here.
This is good old fashioned gazebo — garden style.
All of your outdoor cooking stuff, seriously
Not a grill, or a smoker, or a flat top.
A grill, and a smoker, and a flat top.
Sounds crazy, right?
It's not.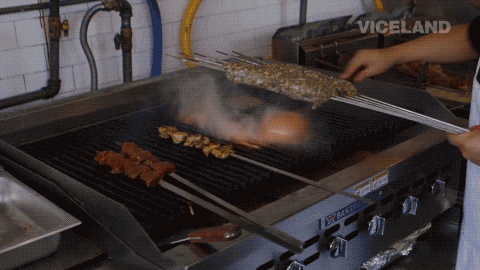 You can easily fit two of these kinds of grills in one of those little 5-foot by 3-foot fold-up grill gazebos from the Home Center.
In a 10- or 12-foot gazebo?
You can easily fit all three, with room for prep tables and even some chairs for entertaining.
Your gazebo can save your kitchen from the heat of cooking all summer long.
It can keep the stronger-smelling foods out in the yard.
And with a winter jacket some shelter from the wind and maybe a portable heater, you can serve breakfast from your flat top all year long.
It's not a time machine
But a four-person hot tub fits!
It's time to turn down the lights and turn up the heat.
But first…
If you've considered running electricity to your gazebo, you'll need a professional.
That makes this the perfect time.
For what?
To install an outlet or hard-wire a panel for your hot tub.
A ten-foot gazebo is plenty of room for a luxury four-person hot tub.
It's more than enough room to include a table for a rose or a glass of champagne.
Or, if you're like regular people, it's perfect for the inflatable two-person from Target and a box of Chardonnay.
They cost about 1/8th the money and you still get really wet.
A secluded, romatic idea
Hot tubs and chaise lounges and giant romantic swings are great reasons to put privacy curtains on a gazebo.
But…they aren't really necessary. Consider an inflatable king-sized mattress.
Why inflatable? Well… lots of reasons, like this one:
For this Gazebo get-up, you're gonna want some privacy. In fact, that's the point!
If your gazebo is closed off and insect proof, it makes a great outdoor spot to spend quiet time away from…whatever things lurk inside your home.
Whether it be a child, a pet, or even that annoying kid from next door who thinks he can just eat your Doritos, you need to get away.
Your back yard can literally be your Nirvana. Okay, maybe figuratively.
You get the idea.
You'll want some power or at least some good electronics with long-life batteries for mood lighting, movie watching, and maybe even a little mini fridge.
So About That Answer…
Yes, there is always an answer.
If you don't think you have what it takes to build a gazebo, there are some things you should look into:
Ask your friends and family
Not for nothing, but a carpenter who enjoys the craft will always volunteer to help frame a gazebo.
The roofs are sometimes called "witch's hats" and they are a triumph of framing.
Ask around; offer what you can. You may be surprised.
Lumber yards and home centers are great resources
They have people on staff ready to sell standard packages for gazebos, sheds, decks, and anything else you can think of — complete with all the code-compliant hardware you'll need.
If you do get a friend or two to take your case, the materials should be a breeze.
They may even have a blueprint or two to choose from.
Gazebos can be bought whole and often financed
Gazebos, much like sheds, are sold and delivered on flatbed trucks all the time.
Some places even offer financing or lease-to-own options.
I a gazebo is in the budget but you don't feel you can build one, buying one may be the way to go.
Call a trusted contractor
A gazebo, much like any intricate structure, isn't something you want to trust to just anyone.
Make sure you get lots of references and pictures of local work.
Then, just to be safe…
Drive to one or two and look at them first hand.
Are they well-built? Have they stood the test of time?
Your project is an important one — make sure to do your homework.
You Can Always Test the Waters
Building a permanent structure is a big decision. It requires loud noises, lumber, and a work zone.
You'll need permits and holes and concrete and…
Have you made sure it's something you'll use?
A temporary solution may turn permanent
For much less than a permanent structure, there are temporary, fold up gazebos — complete with screens and curtains — that are a great way to jump in the shallow end.
All you need is some level ground and the will to do it.
Presto — gazebo.
The high end are typically hard-tops, but for just a few hundred bucks at the right spring sale, you can usually grab a great starter package to see just how much you actually like your yard.
If you do, you'll already know where to go to get started on the one that will last a lifetime!
Have a gazebo building story to share? We'd love to hear about it in the comments.